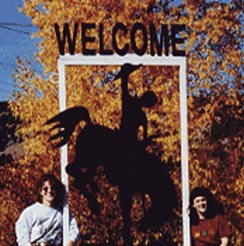 TO WYOMING!


Yup, Wyoming's where I hang my hat...I'm happy to share some of her breathtaking sites with you!
Mocha and I will be your guides on this tour.


(I've invited Mocha along because parts of the state are not accessible to a '57 Chevy...not even one with 4-wheel drive!)

First let's get our bearings, since Wyoming is just one of those vague rectangles the meteorologist always stands in front of... ;-)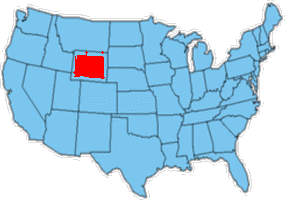 Speaking of hats and meteorologists (hehe), this is a good time to warn you about Wyoming's wind. It's rather notorious, and requires that you hang onto your hat, as is evident from this photo of a "Wyoming Windsock" ~~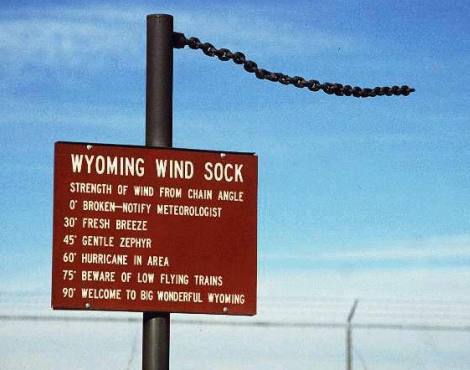 The sign reads:
"STRENGTH OF WIND FROM CHAIN ANGLE ~
0º BROKEN - NOTIFY METEOROLOGIST
30º FRESH BREEZE
45º GENTLE ZEPHYR
60º HURRICANE IN AREA
75º BEWARE OF ANY LOW-FLYING TRAINS
90º WELCOME TO BIG, WONDERFUL WYOMING!"
Don't say I didn't warn you....

At 97,914 square miles, Wyoming is the 9th largest state in the US, but it has the smallest population (only 493,782). That means there are only 5 people per square mile! So stretch out and take a deep breath of that good, clean air, while I share some more state facts with you!

Wyoming became the nation's 44th state on July 10, 1890. The name "Wyoming" derives from a Native American word, mecheweamiing, which translates to "at the big plains." Her nicknames are "The Cowboy State" and "The Equality State," having been the first state to grant women the right to vote
(more on that later!)

Our state flag was adopted in 1917 (the state seal is the "brand" on the bison's side).

Our state flower is the Indian Paintbrush, adopted in 1917. Often you'll see it blooming amongst purple lupine, which sure paints a pretty picture!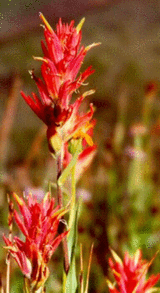 The state tree is the Plains Cottonwood, adopted in 1947.

Our state bird is the Western Meadowlark, adopted in 1927. In the summer, you can often see meadowlarks perched on top of fenceposts, singing loudly.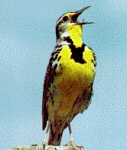 Click on the Western Meadowlark to hear him sing!
Now let's begin our tour in Cheyenne, Wyoming's capital!